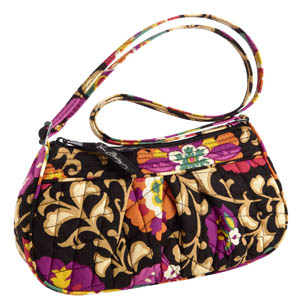 The Suzani made its debut during the Winter season of 2011. This print is a traditional design inspired by decorative and embroidered tribal textile that you would see in Asia. This traditional pattern were worn by brides for their wedding in Asia. This regal pattern is enhanced by some royal jewel tones and gold decor that stand out against the velvety black background. The interior has a floral print with filigree scrolls, keeping the regal theme consist throughout the bag. This is a fun design that you can show off at any holiday party.
Product listings did not load properly due to a server error. Please try reloading the page.
No items matching the keywords "Vera Bradley Suzani" were found. This could be due to a server error. Please refresh this page again.
CURL error code = 6. (Could not resolve host: rest.ebay.com)

Vera Bradley retired the Suzani print in August 2013 after a two year production run at retail stores. Fortunately there are plenty of new Suzani handbags remaining in inventory for collectors to purchase before they disappear from the market in the United States.