Last November, Vera Bradley officially released their new Winter Colors for 2012: Dogwood and English Rose. Earlier during Breast Cancer Awareness in the month of September, Vera Bradley also premiered its beautiful Ribbons fabric pattern to shoppers across America. In all, this Winter season, the company has released three brand new different creative designs that will look great with many of your winter wardrobe.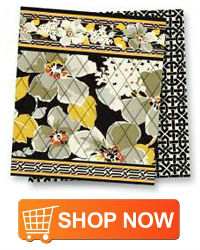 Vera Bradley's Dogwood is one of this holiday's seasons most popular Vera Bradley prints. Brighten your Winter day with yellow gold floral pattern mixed in with white and grey flower designs that sit againt a dark black background on your winter Vera Bradley handbag. These Dogwood handbags will look great with your dark evening dress if you like to go out during the holidays. This will match many white winter sweaters.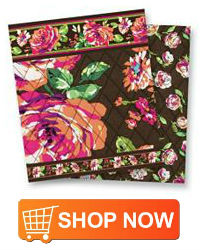 The next Winter print English Rose has a more nostalgic countryside theme. If you like to wear more conservative or vintage clothing, the English Rose handbags are the ones you want to carry around town. This chintz-inspired pattern has beautiful warm colors of plum, mulberry, and orange flowers with kelly green and turquoise leaves set against a brown backdrop. These handbags will match denim pants and winter jackets.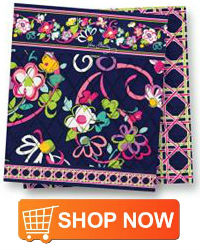 The final Winter 2012 color from Vera Bradley is Ribbons. The ribbon pattern is related to Breast Cancer Awareness. Vera Bradley donates about $1 million dollars a year to his breast cancer foundation. This new Ribbons print showcases bright floral in golden yellow, violet, pink, and aqua floral and twirl patterns on a navy backdrop color, creating a very dynamic and festive upbeat pattern. Inside these Vera Bradley bags, you will see a pattern of pink and green canes that symbolizes the brave support for the cause. Show for your support in finding a cure for breast cancer by carrying around this pretty Winter color. These Vera Bradley colors for 2012 will make your winter brighter and more colorful.
If you are also shopping for Vera Bradley's Fall 2012 colors and pattern, take a look at these:
| | | |
| --- | --- | --- |
| Indigo Pop | Paisley Meets Plaid | Va Va Bloom |
| Canyon | Provencal | Portobello Road |
Black Friday will deliver some of the best sale bargains from sellers. The Thanksgiving and Christmas holiday shopping season will often encourage sellers to have specials on Vera Bradley handbags so you can save some money for the holidays.